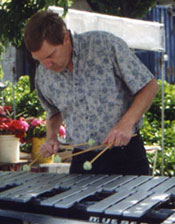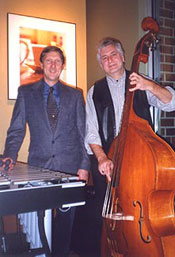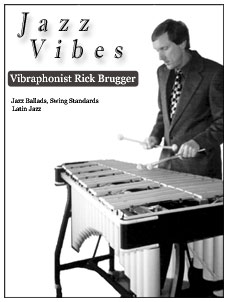 Vibraphonist Rick Brugger brings something unique and wonderful to your special event. The vibraphone, a complex instrument with unlimited melodic possibilities is masterfully played by Rick. His love of jazz runs deep and his talent has been nurtured by such northwest greats as Chuck Israel and Bill Rossi. Rick's soft delicate touch and subtle song selection, has made him ideal for that special occasion to set the right atmospheric mood. Technology plays a part in his solo and duo performances, as Rick produces all of his backing tracks at his studio. The result is a sound that sounds like a full band performing. This seasoned performer brings his own special magic to a variety of jazz classics, swing and bossa nova tunes for the listening and dancing pleasure of your guest.
---
Rick performs solo, duo, and trio combinations.
Solo performances use pre-programmed accompaniment tracks.
This makes the music sound full, classy & fun.
*******************************************************************
Demo Songs: Blue Skies, Them There Eyes, Unforgettable, The Way You Look Tonight
Past Venues: Jacci's Fish & Chips, Bellwether, Haggen Public and Private Parties, Starbucks, Evergreen Cascades, Bellingham Chamber of Commerce, Lynden Crafts Fair, Big Brothers, Creekside, Hizzhoners Deli, Peace Arch Park, Port of Bellingham, Mountain Glenn, Brett and Dogert, Semiamoo, Parkway Chateau, Barkley Village Fun Run, Assumption Church Harvest Festival 1999, Whatcom Educational Credit Union Christmas Party, Allied Arts Soup Festival.